Sole Mare Ristorante Italiano is a traditional family restaurant, within walking distance of the high-rise resorts. This stylish Italian eatery has never veered from its opening-day philosophy of serving delicious home-cooked Italian food, with rich, fresh flavors, at reasonable prices and in hearty portions, delivering an authentic slice of Italy, to Palm Beach, Aruba.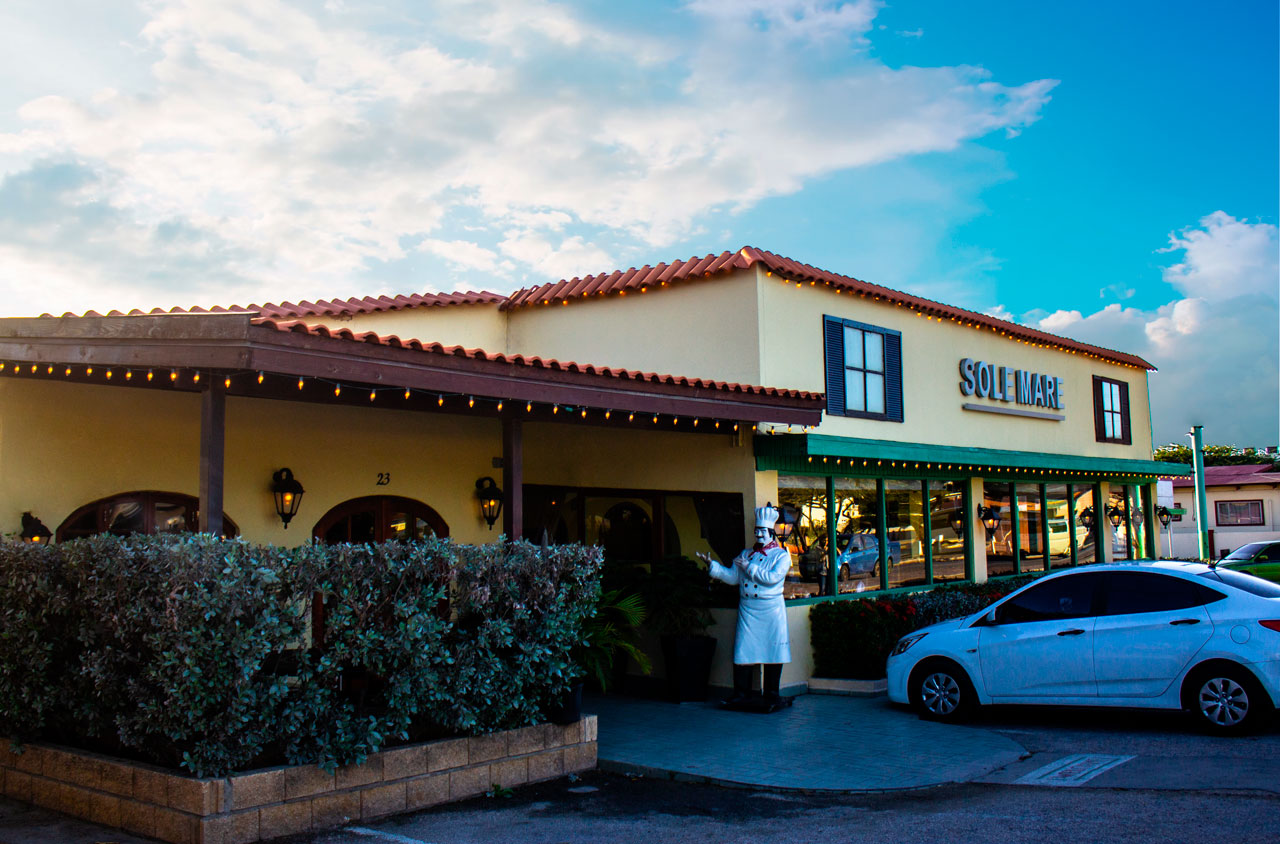 Meet the venue
Italianissimo
Sole Mare is now offering considerable added value to its customers by serving an Early Bird Special for $29, daily from 5:30 p.m. to 7:00 p.m.
On the menu: Insalate Mista or Homemade Minestrone followed by Linguini Fruitti Di Mare or Fresh Filet of Grouper, with a side of pasta or vegetables or Chicken Parmigiana, with a side of pasta or vegetables and Caramel Flan or Ice cream for dessert, Coffee or Tea.
Those who wish to dine later in the evening may enjoy some of the chef's specialties such as Spaghetti Al Formaggio Parmigiana, an authentic Italian dish flamed with Whiskey tableside or Sole Mare Special, truly a seafood lover's favorite with jumbo shrimp, the largest on the island, mussels, clams, calamari, and Caribbean lobster over a bed of spaghetti, or the irresistible Ravioli alla Vodka with Lobster and Shrimp, brimming with homemade Ravioli filled with Caribbean lobster, jumbo shrimp and fresh mushrooms, sautéed with garlic and olive oil, flamed with vodka, blended with a delicate creamy tomato sauce or the decadent Rib Eye Pizzaiola, USDA certified Angus beef, sautéed with extra virgin olive oil, tomatoes, garlic, and black olives.
Kids will find dining at Sole Mare satisfying as they can choose from an extensive kids' menu featuring Rigatoni with Meat Sauce, Spaghetti with Meatballs, Fettuccini Alfredo, Meat Lasagna, Mozzarella Sticks, Cheese Ravioli or Chicken Fingers with French Fries.
Sole Mar offers ample parking, and congenial, caring service with no service charge added to the bill. Take out service is fast and efficient with no service charge and the restaurant kitchen is open seven days a week until 11 p.m.